Windy City Ninjas is not just for kids! We offer Adult Classes, Adult Open Gyms and Obstacle Course Racing Classes (OCR) for ages 16+.
Enjoy watching the show American Ninja Warriors as much as your kids do? Secretly wish you could see how you would perform against the obstacles? Now is your chance! Our adult classes will expose you to all of our full-size obstacles and give you one heck of a full-body workout. These adult classes have structured circuits which will not only help improve your performance on the obstacles, but they will help improve your overall strength, agility, and fitness level.
Testimonial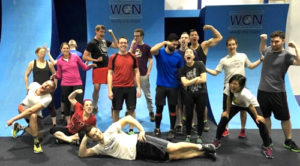 "I LOVE the Windy City Ninjas adult classes! Zak is a patient, non-judgemental and very informative instructor. It's not about getting on the show or even making it up the warped wall for me as it may be for some; its about the workout and feeling strong! But even those who are here to train for the show can benefit greatly from Zak's passion and experience. I'm someone who hates the standard weightlifting or boring spin class type of work-out, so these classes give me the same, if not better work-out and its always a different, and sometimes silly circuit that challenges every muscle. The goals are less about reps or increasing weights and more about making it to the next course or new level on that apparatus. " – Bethany S
Elmhurst Adult Classes coming soon! Elmhurst Adult Open Gyms are booking now!
CHOOSE OUR CHICAGO OR ELMHURST LOCATION:

Check out our Adult Programs in action: