Wednesdays, 10:00 AM
Ninja Storytime Adventures (ages 2-3)
Lil Warriors ( ages 4-5)
Thursdays, 9:00 and 10:00 AM
9:00 AM Lil Warriors (ages 2-3)
10:00 AM Lil Warriors (ages 4-5)
Kids Intro Series
Is your kid interested in competing??? WCN is kicking off a 4-week program for kids that are interested in competing but want to get their feet wet, further advance their skills and participate in rec competitions first. Ages 6 – 14. Every week we will run a unique and diff course just like a competition. Additionally, each week we will work on a different theme…grip strength, balance, explosion, etc. We will be kicking off this program Friday Jan 11 at 5:30 and it will run for an hour every Friday for 4 weeks. – SIGN UP NOW!
Please follow the steps below to register for 2018/2019 classes. All children's classes are by monthly enrollment only. Please visit our CLASS DESCRIPTIONS for more information. Classes are once per week and end August 31, 2019. Not ready to commit and want to give us a try first? Purchase a TRIAL PASS and come to a class to see what we are all about.

Registration for 2017/2018 classes is still open if you would like to register for current classes.
Pricing:
$120 per month for 1 child
$230 per month for 2 children
$330 per month for 3 children
STEP 1. CREATE AN ACCOUNT FOR YOURSELF (PARENT)
a) SCROLL DOWN PAGE TO REVIEW AND AGREE TO OUR POLICIES AND WAIVER

b) AFTER YOU HAVE SETUP YOUR ACCOUNT – SELECT "ADD FAMILY MEMBER" AND ENTER INFORMATION FOR EACH CHILD COMING TO WINDY CITY NINJAS. BE SURE TO INCLUDE THEIR GENDER AND BIRTHDATE AND SELECT "YES" NEXT TO "ENROLL BY NEW CLIENT."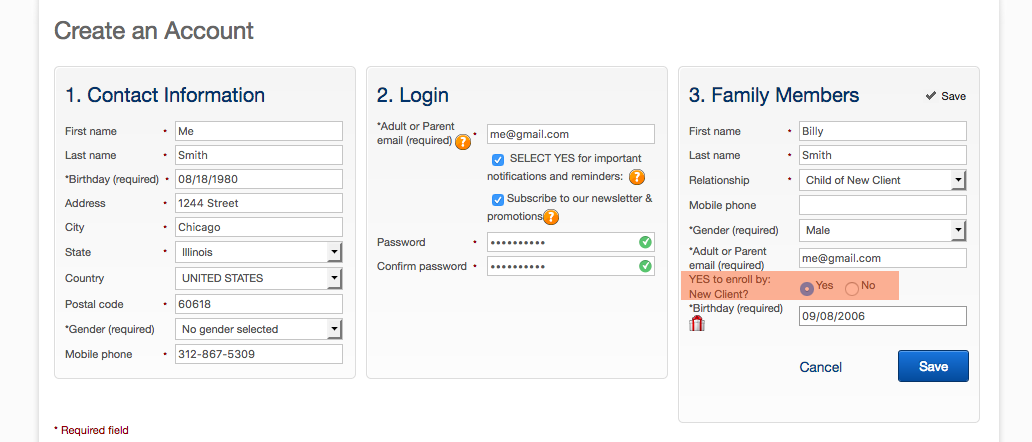 STEP 2. GO TO "MONTHLY SUBSCRIPTIONS" TAB FROM YOUR ACCOUNT PAGE.

SELECT YOUR DESIRED SUBSCRIPTION AND COMPLETE PURCHASE OF SUBSCRIPTION.

YOU WILL BE CHARGED ONLY FOR THE CLASSES REMAINING DURING THE CURRENT MONTH AND ON THE 1ST OF THE MONTH SUBSEQUENTLY.
STEP 3. RETURN TO SCHEDULE BELOW – CHOOSE CLASS.

SELECT CHILD YOU WISH TO ENROLL (DO NOT CHOOSE FIRST "ENROLL" OPTION – THAT IS YOU (THE PARENT).

YOU ARE ENROLLED! COME TO CLASS!