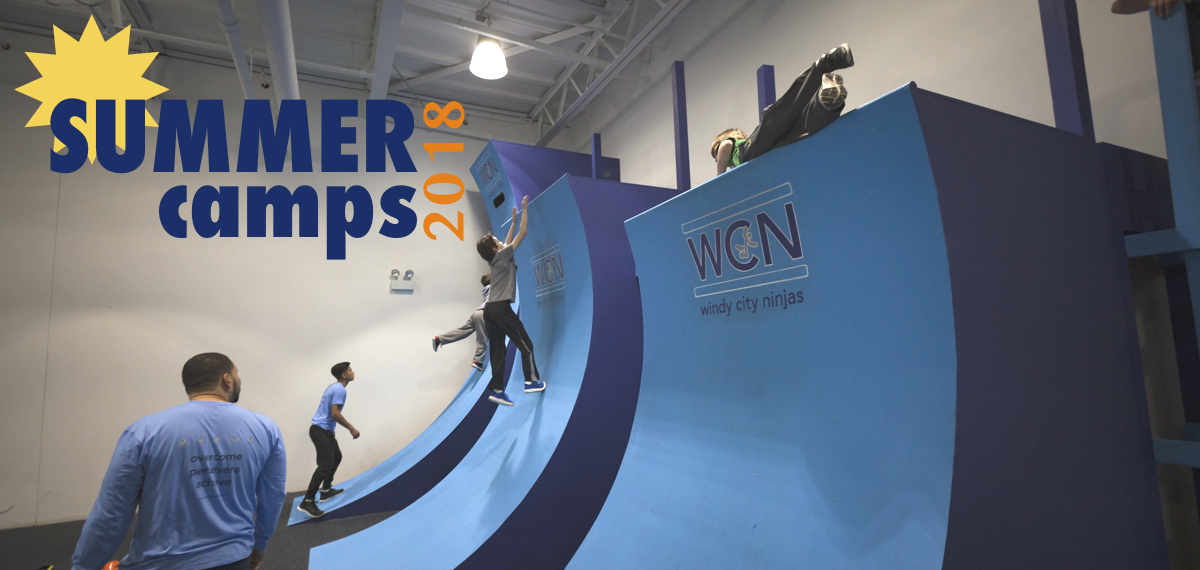 Celebrating 1 YEAR! Free official Windy City Ninjas t-shirt for summer camps booked this month!
The most talked-about summer camps of last year are returning! Your kids will LOVE our summer camps, we're all about building strength, agility, self-confidence and continuous improvement… all while having a blast! During our camps, your child will learn proper techniques from instructors, engage in structured obstacle circuits, tackle new obstacles, enjoy free play time and participate in competitions and races. We will also be integrating other games, sports, and outdoor activities to give our ninja hands a break over the course of the week.
Take advantage of our early bird pricing! Prices increase on April 1.
$225 (reg. price $250) for a full (M-F) week
$180 (reg price of $200) for 4 day camp over 4th of July and Labor Day.
Purchases are non-refundable.
Camps are offered June 11th-September 7th. Monday-Friday, with the following options:
9am-12pm
12:30pm-3:30pm
Register for both morning and afternoon camp for a full day of fun
Ages 5+
Please use the calendar below to register for full week camps.

Don't need a full week, or need some flexibility around your camp days? We offer 5 Pack Summer Passes and 10 Pack Summer Passes. Our 5 and 10 pack options allow you to lock in the lower rate, yet give you flexibility to choose your camp days throughout the summer! This is a pass for 5 or 10 summer camp sessions for use at any time or day Windy City Ninjas offers summer camp sessions. Packs expire at the end of 2018 summer camp season, and are non-refundable.
PURCHASE A PACK OF SUMMER CLASSES
Early Bird Sale!
5 Pack: $275 (reg price of $300)
10 Pack: $500 (reg price of $550)
A day in the life of a Ninja:
Camp kickoff, rules, warm-up
Ninja Warrior obstacle circuit training
Outdoor time in morning and afternoon sessions. We want to give our ninja hands a break and our WCN campers will be playing field sports together.
Team-based activities – Team Ninja Warrior, Relay Races, Timed Ninja Courses, etc
Groups will be made based on age.
What should your child bring to camp?
Snack
Water bottle
Clean shoes
Full day campers should bring a lunch. If you sign up for morning and afternoon camp your child will stay and have lunch in our party room.

STEP 1. CREATE AN ACCOUNT FOR YOURSELF (PARENT)
– SCROLL DOWN PAGE TO REVIEW AND AGREE TO OUR POLICIES AND WAIVER
STEP 2. AFTER YOU HAVE SETUP YOUR ACCOUNT – SELECT "ADD FAMILY MEMBER" AND ENTER INFORMATION FOR EACH CHILD COMING TO WINDY CITY NINJAS. BE SURE TO INCLUDE THEIR GENDER AND BIRTHDATE.
STEP 3. COME BACK TO OUR SITE AND SELECT THE SUMMER CAMP FROM THE CALENDAR BELOW. IF YOU ARE SIGNING UP MORE THAN ONE FAMILY MEMBER FOR A CAMP – PLEASE RETURN TO THIS PAGE AND ADD TO CART FOR EACH PERSON ATTENDING. CHECKOUT AND PAY.
IF YOU ARE AN EXISTING CLIENT, PLEASE JUST CHOOSE DESIRED CAMP TIME BELOW. IF YOU ARE SIGNING UP MORE THAN ONE FAMILY MEMBER FOR A CAMP PLEASE RETURN TO THIS PAGE AND ADD TO CART FOR EACH PERSON ATTENDING.