Meet Shannon Evans, the newest addition to the Windy City Ninjas team! We are thrilled to have Shannon in our gym! Learn more about Shannon and the unique experiences and skills she brings to our team. How did you get involved in ninja warrior training? While pretty new to ninja training, I've always LOVED working with children and trying new endeavors and challenging myself! Our gym is a huge playground filled with new challenges to try every day. What do you enjoy most about working with the kids in the gym? It's amazing watching a young athlete grow in their confidence as they improve their skills over time - even just during their first experience here. Young kiddos who are shaky and clinging to me as I spot them while trying something new are often sauntering out of here like superheroes. I also get a kick out of the reactions to families that come in for the first time. Seeing the look on their faces when they walk in and see the space and athletes climbing and jumping and swinging all around is one of my favorite small moments here. You have a background in theater and working with kids. How is this work a natural extension of the other work you've done with children? My background is in theater. I also work as a freelance theater director, producer, designer, actor, and educator. Much of my teaching experience has been with Emerald City Theatre, where I've been a resident teaching artist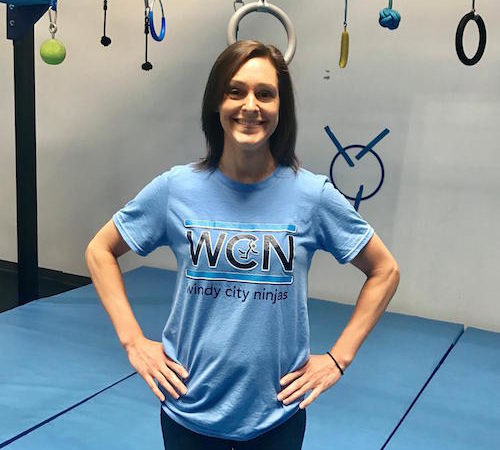 Get to know Windy City Ninjas Instructor Tamara Stephens!
How did you get involved in ninja warrior training?
As a fitness professional, yoga enthusiast, and former gymnast, ninja warrior training was a new challenge and playground for me. I am always looking for different ways to test my physical and mental capabilities. Conquering each new obstacle gives me that drive and rush.
What do you enjoy most about working with the kids in the gym? I love seeing the excitement and joy on my athletes' faces when they conquer a new obstacle or skill. As coach, you know how hard they worked to get there. It's a wonderful feeling knowing you helped them conquer a fear, finally made a skill "click", or just being that coach that makes them want to be at WCN. What have YOU learned in your time at WCN? Always be flexible in your mind and body. I have seen athletes use techniques to conquer obstacles that I would have never thought of. My staff has similarly taught me that there are many ways to look at a task. Be open and creative! Favorite obstacle? Tilted ladder - I love that there are so many different techniques that you can use to successfully conquer it! Advice for a first time visitor to Windy City Ninjas? Come in with an open and positive attitude, WCN is your playground to a have fun! Every ninja has their strengths and areas to improve upon. Some obstacles will take more practice than others. Perseverance and believing in yourself are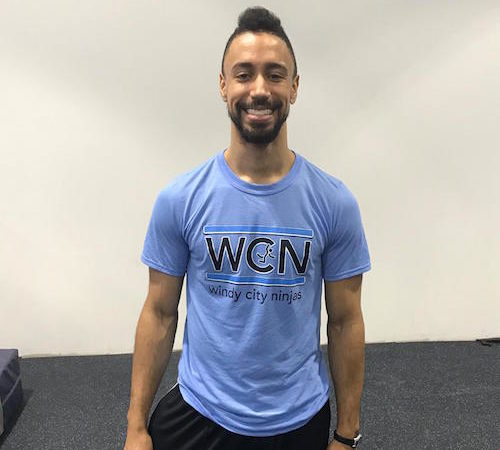 Zak competed on American Ninja Warrior in Season 8.
Zak and his dad built a course in their garage to train because there was no place to do do it at the time! Zak loves working with kids at Windy City Ninjas and watching how the benefits of cross training translate into other sports. He says, "Encouraging kids to conquer these obstacles gives th
em the drive to get out of their comfort zones and push themselves."
Favorite obstacle:
Cliff hanger
Favorite post workout refuel:
Chocolate milk or a protein shake
Advice for a first time visitor to Windy City Ninjas:
Have fun and try things you wouldn't have tried before. The experience might make you want to add new things to your life.
Favorite Ninjas Warrior Athletes:
The Wolf Pack, Brian Arnold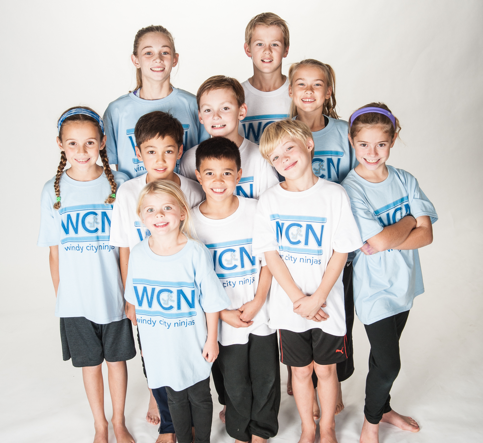 Full and Part-Time Positions
Looking for a job at Windy City Ninjas? Great, we are looking for energetic and friendly people to join our team! Some full-time and part-time positions available. Please send your resume and contact information to
info@windycityninjas.com
Coaches/Instructors Positions
Windy City Ninjas, Chicago's newest children's fitness facility, has coaching positions available at our brand new, 10,000 square foot space located at Bradley Place. We are seeking energetic and athletic individuals with a sincere passion for children and fitness. This is a very active position involving high energy, hard work and hustle. It's also very rewarding to help children of all ages develop physically, cognitively and emotionally as they build confidence and self-esteem. If you love working with kids, we'll train you to lead our high-energy, fun-filled classes!  Some light administration work may be required (front desk, customer service, etc.). Some of the qualities we look for in candidates are:
Sincere love of children
Background in fitness (athletics, dance, sports, cheer / cheerleading, gymnastics, martial arts, exercise science, physical education, or related field)
Experience working with children
High energy, passion and hustle
Friendly, positive attitude
Flexible afternoon, weeknight and/or weekend schedule
Looking for a long-term position
Please apply through Indeed
detailing why you want to become a Windy City Ninja instructor!  Please detail your availability in your response. Thank you!
Overcome.  Persevere.  Achieve.