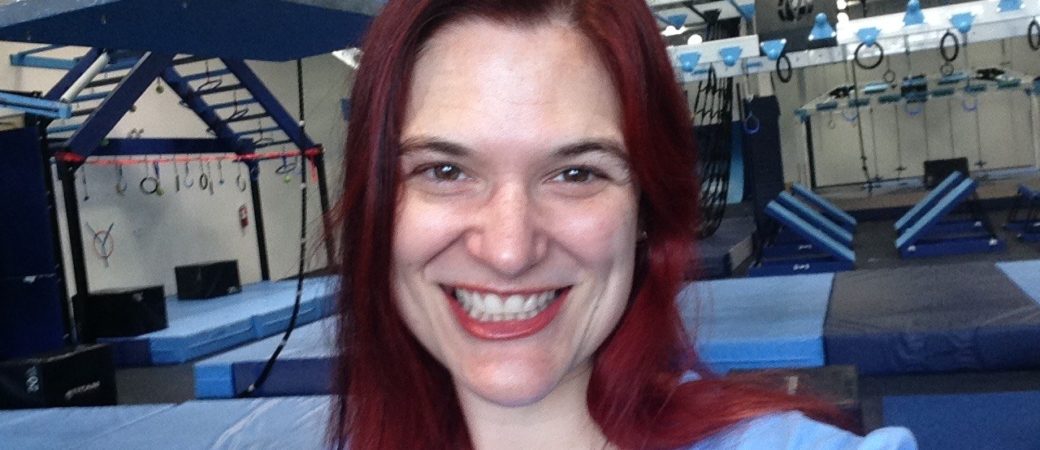 Meet Shannon Evans, the newest addition to the Windy City Ninjas team! We are thrilled to have Shannon in our gym! Learn more about Shannon and the unique experiences and skills she brings to our team.
How did you get involved in ninja warrior training?
While pretty new to ninja training, I've always LOVED working with children and trying new endeavors and challenging myself! Our gym is a huge playground filled with new challenges to try every day.
What do you enjoy most about working with the kids in the gym?
It's amazing watching a young athlete grow in their confidence as they improve their skills over time – even just during their first experience here. Young kiddos who are shaky and clinging to me as I spot them while trying something new are often sauntering out of here like superheroes. I also get a kick out of the reactions to families that come in for the first time. Seeing the look on their faces when they walk in and see the space and athletes climbing and jumping and swinging all around is one of my favorite small moments here.
You have a background in theater and working with kids. How is this work a natural extension of the other work you've done with children?
My background is in theater. I also work as a freelance theater director, producer, designer, actor, and educator. Much of my teaching experience has been with Emerald City Theatre, where I've been a resident teaching artist since 2005. I've had the honor of working at many schools over the years through classes, camps, workshops, residencies, and after school programming.
I was surprised by how much my theater and classroom experience transfers seamlessly to the gym. Both theater and ninja training require drive, creativity, and a positive growth-mindset. I'm passionate about helping kids strengthen their cognitive and social-emotional skills– especially self-confidence and collaboration skills– and both theater and ninja training are direct avenues to help kids do just that. Plus, I like being silly with the kids and keeping them engaged, especially making bear sounds during bear crawls! Grrr!
What is the best part of your job?
Windy City Ninjas has an infectious energy. Our ninjas are so excited and have so much fun! It's inspiring and humbling to help them tackle new obstacles and goals. I see lots of huge, sweaty smiles, and I find it impossible not to have fun here myself.
Honestly, I had almost no confidence for sports or physical activity as a kid. I used to dread gym class. We're constantly reconfiguring obstacles and adding new ones to maximize the sense of challenge in here for all ages. So, as someone who didn't grow up athletic at all, it can be intimidating. But once I just started jumping around and trying things, I was hooked.
What have YOU learned in your time at WCN?
I learn from our young athletes everyday! When I started here, I was immediately struck by the tenacity of our students. They try obstacles over and over, sometimes over the course of several weeks, until they achieve what they set out to do. It's a really healthy reminder for me that extends to many areas of my grown-up life.
Favorite obstacle? – Pipe Slider and the Jumping Spider
Favorite post workout refuel? – A handful of almonds or string cheese
Advice for a first time visitor to Windy City Ninjas? – Go for it! It's really no big deal if you fall on something. Just try it again!
Favorite Ninjas Warrior Athletes?
Coaches Zak and Herchel, of course! I'm also a huge fan of Jessie Graff, Kacy Catanzaro, and Tyrannosaurus Flex.